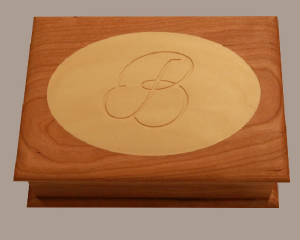 Script typefaces are based on handwriting, and each letter used is custom and unique. The typeface featured on this box has a very elegant feel. Type designers have strived to incorporate the beauty of calligraphic characters into its look. This contributes to its elegance, making each distinct letter a perfect form of art for just such a box.
These boxes are beautifully handcrafted in South Carolina. Each one is unique in outward appearance, yet still functional. The wood for each box is American grown cherry and basswood. The unique lid design is carved within the oval basswood inlay. The wood is carefully chosen so that imperfections are limited, and each box is constructed with care.
The lid gets an artistic touch with an elegant script recessed letter, making each box one of a kind. Depending on the shape of your desired letter, the orientation of the box may be vertical or horizontal. The box is hand finished giving a luster to the natural wood grain, and accompanied with a removable suede lining.


Classic Box $110