Gingko Leaf Box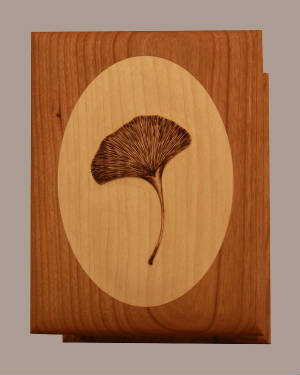 Longevity is a signature characteristic of the gingko tree, having been known to live as long as 1,000 years. It is seen as a symbol of changelessness and of the immeasurable past. Gingko leaves are aesthetically pleasing to the eye, and artists have long used them for their beauty.
These boxes are beautifully handcrafted in South Carolina. Each one is unique in outward appearance, yet still functional. The wood for each box is American grown cherry and basswood. The unique lid design is carved within the oval basswood inlay. The wood is carefully chosen so that imperfections are limited, and each box is constructed with care.
The raised gingko leaf gets an artistic touch with custom burned details, making each one of a kind. The box is hand finished giving a luster to the natural wood grain, and accompanied with a removable suede lining.
Classic Box $120
Tall Box $135