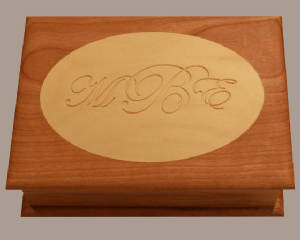 Monograms are one of the oldest forms of identification in the world and are still widely recognized and used today. Historically, a monogram was used as a royal signature. Romans and Greeks then began to use them on clay coins to identify their rulers, and during the Middle Ages, artisans used them to sign their work. Upper class society adapted the monogram for personal use as a status symbol, and today monograms are widely used to personalize items of value.
Monograms with three initials are generally in the Victorian format of first initial on the left, last initial larger in the center, and middle initial on the right. Married monograms usually consist of the bride's initial on the left, married last initial larger in the center, and groom's initial on the right.
These boxes are beautifully handcrafted in South Carolina. Each one is unique in outward appearance, yet still functional. The wood for each box is American grown cherry and basswood. The unique lid design is carved within the oval basswood inlay. The wood is carefully chosen so that imperfections are limited, and each box is constructed with care.
The lid gets an artistic touch with a custom designed recessed monogram, making each one of a kind. The box is hand finished giving a luster to the natural wood grain, and accompanied with a removable suede lining.