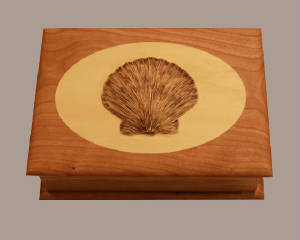 Sea shells are considered true gems of the sea, and many people are attracted to their beauty. Featured in art, architecture and religion throughout history, scallops are one of the few bivalves that actually swim. Many British families added scallops to their coat of arms as a reference to Catholic ancestors who participated in the Crusades.
These boxes are beautifully handcrafted in South Carolina. Each one is unique in outward appearance, yet still functional. The wood for each box is American grown cherry and basswood. The unique lid design is carved within the oval basswood inlay. The wood is carefully chosen so that imperfections are limited, and each box is constructed with care.
The raised sea shell gets an artistic touch with custom burned details, making each one of a kind. The box is hand finished giving a luster to the natural wood grain, and accompanied with a removable suede lining.
Classic Box $120